Ethical Challenges in Advance Care Planning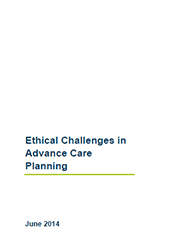 This advice explores the ethical challenges health professionals face in advance care planning.
Advance care planning is a voluntary process of discussion and shared planning for future health care between a person and health professionals.
NEAC's advice aims to provide practical assistance to help ensure good outcomes for consumers and health professionals from the advance care planning process. The advice is primarily aimed at health professionals, but it may also be helpful to members of the public.
Case studies are used to highlight four identified ethical challenges and the practical solutions to help resolve these.
NEAC would like to thank all those who have contributed to the development of the advice.