NEAC Advice on Compensation for Treatment Injury in Clinical Trials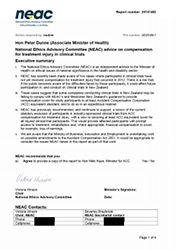 In November 2014, NEAC provided advice to the Associate Minister of Health on compensation for treatment injury in clinical trials.
NEAC's advice raised concerns about the delay in compensation for two participants injured in separate clinical trials.
NEAC supported a review of the current statutory exclusion of participants in industry-sponsored clinical trials from ACC compensation for treatment injury, with a view to securing at least ACC-equivalent cover for all injured clinical trial participants.
In December 2015, NEAC received a response to this advice from Hon Peter Dunne, Associate Minister of Health. The Minister has asked for further advice from NEAC on this issue alongside NEAC's current review of the Ethical Guidelines for Observational Studies and Ethical Guidelines for Intervention Studies.
If you are having difficulty accessing these documents, please email neac@health.govt.nz